Can Fruits and Vegetables Help Manage the Symptoms of COPD?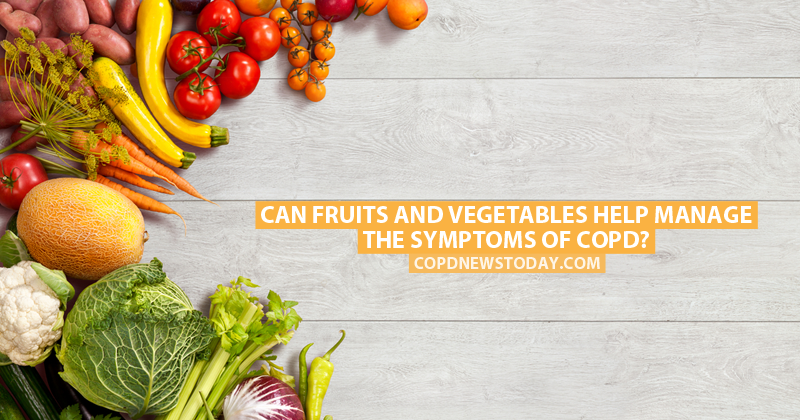 According to a recent study, 10 servings of fruits and vegetables may just what the doctor ordered when it comes to reducing the risk of COPD and the management of the disease. For each additional serving (above the standard five) former smokers' risk of developing COPD reduced by four percent and eight percent for current smokers. Of course, the study still notes that quitting smoking is the best thing anyone can do to reduce their risk of developing COPD.
But it's not just about preventing the disease. This report on Everyday Health shares that fresh and frozen fruits and vegetables are essential for managing COPD. In particular, fruits and vegetables high in vitamin A have been shown to improve symptoms. If you have limited energy, you can always buy vegetables that are pre-cut and ready to steam. Fruits are also easy as there is very little prep involved. You can even buy frozen vegetables that you can cook in the microwave, which saves time and effort.
MORE: How does chronic obstructive pulmonary disease affect the lungs?
Good nutrition is imperative for everyone, but those suffering with chronic illnesses like COPD need to be especially vigilant in eating healthy foods. Green leafy vegetables and brightly colored fruits are an important part of that. A good rule of thumb is to fill half your plate with fruits and vegetables. This will ensure that you get the proper amount of servings with each meal. If you can, try to buy organic and locally grown.
Changing your diet will not cure COPD but it will help you feel better. Some foods to include for better lung function include sweet potatoes, carrots, cantaloupe, red and green peppers, apricots, mango, broccoli, squash, citrus fruits, kiwi, strawberries, tomatoes, and apples. Berries are especially high in antioxidants which will help with inflammation.
Be sure to get plenty of fruits and vegetables everyday—your lungs will benefit. Making breakfast your biggest meal of the day will help give you more energy from the start, while eating smaller meals the rest of the day will help keep you going, especially as the day goes on and you begin to tire.
MORE: Six remarkable things to know about people living with a chronic illness. 
COPD News Today is strictly a news and information website about the disease. It does not provide medical advice, diagnosis or treatment. This content is not intended to be a substitute for professional medical advice, diagnosis, or treatment. Always seek the advice of your physician or other qualified health provider with any questions you may have regarding a medical condition. Never disregard professional medical advice or delay in seeking it because of something you have read on this website.