10 Signs and Symptoms of COPD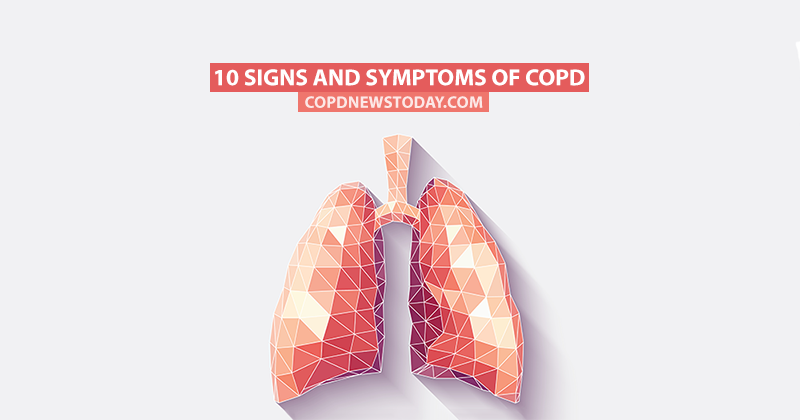 Chronic obstructive pulmonary disease (COPD) is a term for two major lung diseases: chronic bronchitis and emphysema. Both of these diseases are incurable but with early treatment, the progression of the disease can be slowed and the patient can enjoy a good quality of life. We've compiled a list of some of the signs and symptoms associated with COPD based on information from the NIH and the Mayo Clinic.
Shortness of breath, particularly after doing anything physically demanding, which can worsen as the disease progresses to shortness of breath without any physical exertion.
COPD symptoms may be relieved by taking short walks throughout the day. Find out more.
A productive cough which lasts for at least three months for two consecutive years is considered a symptom of COPD.
COPD linked to structural changes in brain regions regulating fear and breathlessness. Find out more.
Having to clear your throat a lot, particularly first thing in the morning, to loosen mucus.
Gold treatment recommendations now include endobronchial valves to manage COPD.
Making a squeaky sound or whistling while you breathe.
COPD diagnosis with lung function test linked to decreased mortality and fewer hospital admissions.
A feeling of constriction or tightness in the chest area.
Understand more about what happens to the lungs in COPD patients with this animated film.
Getting more than your fair share of colds and types of flu over the winter season.
Millions awarded to Australian university to develop new COPD treatments. Find out more.
This is caused by a lack of oxygen in the bloodstream. It's a rare symptom, but medical assistance will be needed.
Positive phase 3 clinical trial data of COPD therapy Revefenacin reported by Theravance and Mylan.
Low oxygen levels will make you feel fatigued.
COPD diagnosis with lung function test linked to decreased mortality and fewer hospital admissions.
Unexplained weight loss could be due to emphysema.
A real-world study of COPD patients found that nondrug Aerobika device reduces exacerbations. Find out more. 
This could be a result of pulmonary hypertension which can develop from COPD.
There is currently no cure for COPD, but treatment options such as stem cell therapy can prevent more damage and improve the patient's quality of life. Find out more.
COPD News Today is strictly a news and information website about the disease. It does not provide medical advice, diagnosis or treatment. This content is not intended to be a substitute for professional medical advice, diagnosis, or treatment. Always seek the advice of your physician or another qualified health provider with any questions you may have regarding a medical condition. Never disregard professional medical advice or delay in seeking it because of something you have read on this website.