Add-on Treatment with Fasenra Fails to Reduce COPD Worsening in TERRANOVA Trial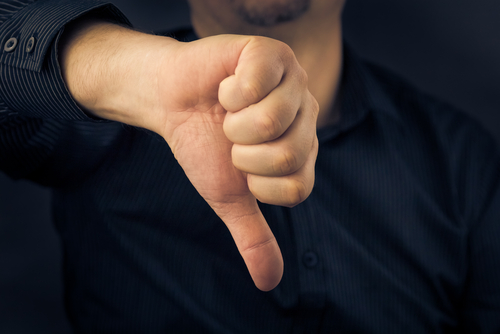 The investigational monoclonal antibody Fasenra (benralizumab) failed to reduce exacerbations in patients with moderate to very severe chronic obstructive pulmonary disease (COPD), top-line results of the Phase 3 TERRANOVA trial have shown.
The disappointing results follow previously announced data from the Phase 3 GALATHEA trial that also showed the candidate failed to meet its primary endpoint of significantly reducing exacerbations.
"These results are disappointing because uncontrolled COPD patients already on dual or triple inhaled therapy need new treatment options," Sean Bohen, chief medical officer at AstraZeneca, said in a press release. "We will now analyze the complete data sets from the GALATHEA and TERRANOVA trials to further understand these results."
Fasenra is an engineered antibody developed by AstraZeneca and MedImmune to recruit natural killer cells to target eosinophils (a type of immune cell), which are directly involved in the response against infections and inflammation.
The therapy is currently approved in the United States, the European Union, Japan, and Australia, among other countries, as an add-on therapy for severe eosinophilic asthma.
The therapy was being tested as an add-on treatment for COPD in the VOYAGER program, which comprises the Phase 3 trials GALATHEA (NCT02138916) and TERRANOVA (NCT02155660). Covering more than 4,000 patients with moderate to very severe COPD and with a history of exacerbations across a range of baseline blood eosinophils, VOYAGER was the largest COPD biologics development program in the world.
In both 56-week, Phase 3 trials, COPD patients were randomly assigned to receive Fasenra or a placebo as an add-on therapy to inhaled standard-of-care therapies.
The safety and tolerability of the treatment in both the GALATHEA and TERRANOVA trials were similar to that reported in previous clinical trials. Top-line efficacy data, however, revealed that Fasenra failed to achieve the studies' primary endpoints, a statistically significant reduction of COPD exacerbations compared to placebo.
Exacerbations in COPD reduce patients' quality of life and are associated with disease progression, faster lung function decline, and increased hospitalizations and mortality.
The companies are still conducting a full evaluation of the trial data, which they will present at a forthcoming medical meeting. Based on the results, AstraZeneca said it does not plan to pursue regulatory approval of the treatment for this indication.
The results do not impact the approved indication of Fasenra in severe eosinophilic asthma.