Benefits of ensifentrine for COPD seen among subgroups of patients
FDA is expected to decide by June about approving inhaled therapy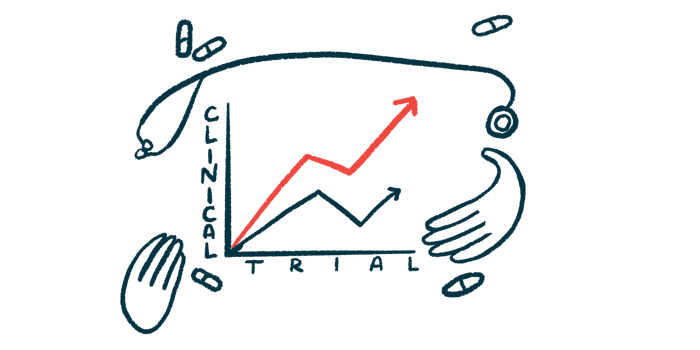 Ensifentrine, an investigational medication under review in the U.S. for chronic obstructive pulmonary disease (COPD), is effective across key patient subgroups, including when patients are separated by their history of lung exacerbations and type of background therapy.
That's according to recent pooled analyses from the ENHANCE-1 (NCT04535986) and ENHANCE-2 (NCT04542057) Phase 3 clinical trials, which were reviewed in presentations at the CHEST annual meeting 2023, Oct. 8-11 in Honolulu.
"Ensifentrine, if approved, is expected to be the first novel mechanism available for the maintenance treatment of COPD in more than 10 years," David Zaccardelli, the CEO of Verona Pharma, said in an email to COPD News Today. "We believe it has potential to change the treatment paradigm for COPD patients as demonstrated by the analyses of our Phase 3 ENHANCE data recently presented at CHEST 2023."
Verona Pharma is the developer of ensifentrine, an inhaled medication that targets two lung enzymes to ease inflammation, widen the airways to make breathing easier (a bronchodilator), and sweep mucus and trapped particles off the airways. The therapy is expected to lower the symptoms of COPD, a chronic inflammatory lung disease.
Lung exacerbations lower with ensifentrine
The U.S. Food and Drug Administration (FDA) has agreed to review Verona's application for the therapy's approval. A decision is expected by June.
Data from the ENHANCE trials supported the application. Together, the trials enrolled more than 1,500 adults, ages 40-80, with moderate to severe COPD.  The participants were randomly assigned to receive 3 mg of ensifentrine or a placebo twice daily for six months (24 weeks), with or without continuing to use an established bronchodilator.
Ensifentrine led to significant improvements in lung function relative to a placebo after 12 weeks in each trial, meeting the main goal, top-line results showed.
Other measures of quality of life and lung symptom severity also favored it after six months, but were only statistically significant in ENHANCE-1. Rates of lung exacerbations were significantly reduced by 36-43% after six months.
In the presentation "Ensifentrine reduces COPD symptoms and rescue medication use over 24 weeks in two Phase 3 trials in symptomatic patients with moderate to severe COPD," Frank Sciurba, MD, of the University of Pittsburgh School of Medicine, discussed analyses from the two studies.
Consistent with published data, ensifentrine led to reductions in respiratory symptoms, shortness of breath (dyspnea), and the weekly use of inhaled rescue medications compared with a placebo. Group differences were detected after six weeks and were maintained up to 24 weeks in both trials.
At six months, these reached statistical significance for all three outcomes in ENHANCE-1, but only for dyspnea in ENHANCE-2.
Benefits of treatment regardless of background therapy
Ensifentrine also benefited patients regardless of the bronchodilators they were using. These findings were discussed by Thomas Siler, MD, a pulmonologist in Saint Charles, Missouri, in "Nebulized ensifentrine improves lung function, symptoms, quality of life and reduces exacerbations in symptomatic COPD patients regardless of background LAMA or LABA therapy."
Among participants, 324 on ensifentrine and 171 on a placebo used long-acting muscarinic antagonists (LAMAs), while 282 on ensifentrine and 181 on a placebo used long-acting beta-agonists (LABAs).
As in the overall trial population, lung function, assessed by the forced expiratory volume in one breath (FEV1) test, was significantly improved with ensifentrine over a placebo in both treatment subgroups after 12 weeks. Both subgroups saw similar reductions in respiratory symptoms and improvements in life quality after 24 weeks on ensifentrine.
Lung exacerbations were significantly reduced by 46% in the LAMA subgroup and by 34% in the LABA subgroup with ensifentrine relative to a placebo. The therapy was also associated with a 42-48% greater reduction in the risk of moderate or severe exacerbations in the subgroups.
Exacerbations before enrolling in studies
In the presentation "Ensifentrine, a novel dual phosphodiesterase (PDE) 3 and 4 inhibitor, reduces exacerbation rate and risk regardless of exacerbation history in pooled ENHANCE trial analyses," Sciurba showed lung exacerbations were also reduced regardless of patients' exacerbation history in the 15 months before enrolling.
Nearly a quarter of all trial participants (23%) had a COPD exacerbation in the 15 months before enrolling, including 220 people given ensifentrine and 136 on a placebo. Most (83-87%) had chronic bronchitis, marked by inflamed and mucus-filled lungs.
For those with an exacerbation history, 32 exacerbations were seen in the ensifentrine group during the trial (annualized rate of 0.36 per year), whereas 29 occurred in the placebo group (annualized rate of 0.51). Exacerbation rates were generally lower among patients without a pre-trial history of exacerbations than in those with a history.
Still, both groups saw a comparable greater reduction in exacerbation risk with ensifentrine relative to a placebo. Ensifentrine-treated patients with an exacerbation history had a 31% lower exacerbation risk than their placebo-treated counterparts, whereas treated patients without a history had a 43% lower risk.
Data from a pooled safety analysis were also shared by Siler in a presentation titled "Pooled safety results over 24 weeks from the ENHANCE program with ensifentrine, a novel dual phosphodiesterase (PDE) 3 and 4 inhibitor."
Ensifentrine was generally well tolerated, with similar rates of side effects and serious side effects between the ensifentrine and placebo groups. Side effects occurring at a higher rate in the ensifentrine group included back pain (1.8% vs. 1%), high blood pressure (1.7% vs. 0.9%), and urinary tract infection (1.3% vs. 1%).
"These additional analyses from the ENHANCE program further demonstrate ensifentrine's potential, if approved, to become an effective novel treatment for COPD patients," Sciurba said in a company press release. "Ensifentrine's combined bronchodilator and nonsteroidal anti-inflammatory activity could lead to meaningful benefits in a broad population of COPD patients."